Stevens Legacy Society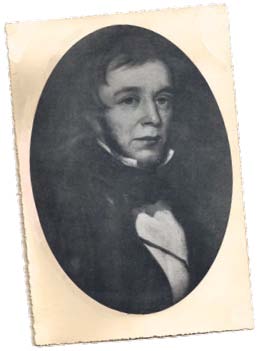 The Stevens Legacy Society honors benefactors who have included Stevens in their financial or estate plans.
Members rekindle the vision and spirit of Edwin A. Stevens, whose will included the bequest that founded Stevens in 1870. The generosity of these alumni and friends endures far into the future because their gifts continue to fund scholarships, endow professorships, promote research, and maintain advanced learning spaces.
Leave a Lasting Legacy
When you establish a charitable gift annuity or a charitable remainder trust with Stevens or notify us in writing that you have established a trust, bequest, or other gift provision, you immediately become eligible for membership in the Stevens Legacy Society. Your planned gift may be for any amount, and your gift may be either unrestricted or designated for a specific fund or program.
Joining the Stevens Legacy Society is easy! Simply inform us in writing that you have included Stevens in your estate plan and send us any of the following documents:
A completed and signed Confidential Statement of Charitable Gift Provision form
A copy of the pertinent provisions in your will or trust
A copy of a life insurance policy naming Stevens as beneficiary
A letter from you or your attorney stating you have included Stevens in your estate plan
Your information will be kept confidential. It is important that we know of your intention to enable Stevens to plan for the future. More important, it gives us the opportunity to thank you and to work with you on the specifics of your intention.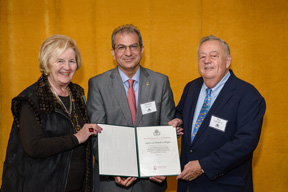 Agnes and Ron LeBright '55 with President Farvardin at a recent Stevens Legacy Society luncheon
Legacy Recognition
Through attendance at invitation-only events both on and off campus, members of the Stevens Legacy Society interact directly with President Farvardin, academic deans, and other campus leaders. They also receive recognition for their support of institutional priorities in university publications.
"My B.E. in electrical and computer engineering from Stevens propelled me into an exciting and fulfilling career in health care technology innovation and creating the future of health care. I encourage you to think about what Stevens has brought to your life and consider joining the Stevens Legacy Society with a planned gift."
—Vera (Isgro) Tice '82
Staff Contact
Michael Governor
Director of Planned Giving
mgoverno@stevens.edu
201.216.8967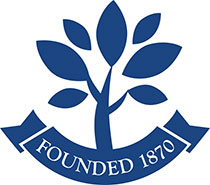 © Pentera, Inc. Planned giving content. All rights reserved.