Joan Gilson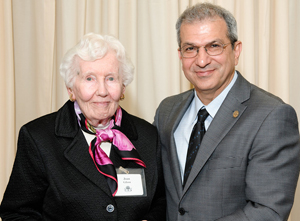 Joan C. Gilson, with President Farvardin at Stevens Legacy Society luncheon
It all started with my grandfather, who was not a wealthy man but did think about doing things for other people. He was in the coal and lumber business in Jersey City, and I recall my grandmother telling me that he used to get bags of coal for the poor people. My father—Harry W. Gilson, Class of 1906—gave to various charities, and this made my sister and me both very aware of the importance of doing our part to assist others in need.
My sister remembered Stevens in her will, which is in a trust now, and the Institute will receive support from me through my estate plan. Stevens meant a lot to my sister and me because Stevens meant a great deal to our father. He used to return to campus for the Old Guard luncheons and events, and we saw these red and gray ribbons around and my father had photos of the Mandolin Club hanging in our den, so Stevens was a part of our lives as children. We both felt we would not be where we are—in a position to give back to Stevens—had our father not received a Stevens education. Our father did not drum it into us, he led by example.
© Pentera, Inc. Planned giving content. All rights reserved.