John '62 and Bernadette Eilertsen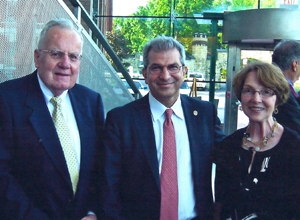 Bernadette and John Eilertsen '62, with President Farvardin on Alumni Weekend
Picture-Perfect Plan
When John Eilertsen, Sr. '62 returned to the Stevens campus in the spring of 2012 for Alumni Weekend and his 50th reunion with his fellow Class of 1962 members, he brought his wife Bernadette — and a surprise. Eilersten took the occasion to announce a significant estate gift that will one day create a named, endowed scholarship fund perpetually supporting first-year students who are in need of financial assistance. The gift automatically earned Eilertsen membership in the Stevens Legacy Society. He was one of seven new members welcomed to the Society in FY 2012.
"Mr. Eilertsen's gift provision for his alma mater is a wonderful vote of confidence in the University, as well as an important investment in its future," noted Michael Governor, Stevens Director of Planned Giving. "His gift will have a meaningful and direct impact on the lives of many future students. We're honored to recognize such vital support through his membership in the Legacy Society."
After graduating from Stevens, Eilertsen joined The New York Telephone Company (then part of AT&T) as a mechanical building engineer. He enjoyed the work but left for a more promising career at Rochester-based photography giant Eastman Kodak in 1967 as a process engineer, soon parlaying his Stevens master's in management into a position in real estate. Eilertsen went on to spend the next 20 years in site selection, supervising the design, construction, leasing, purchasing and selling Kodak's vast empire of properties nationwide and worldwide, sometimes spending weeks at a time in the Far East, Africa and Europe. The work took him to 60 countries in all.
Eilertsen retired in 1991 to spend time in Rochester and the Finger Lakes with his five children, all of whom have since attained master's degrees, with one earning a Ph.D. in 2011.
"We have had excellent fortune," he says. "I could write a book about all the good fortune attributable to my Stevens education."
The road to contentment wasn't easy, however. Eilertsen entered Stevens at age 26 after four-and-a-half years in the U.S. Air Force, commuting daily from Brooklyn and paying nearly all his own way (his father had passed away suddenly when Eilertsen was 19) and achieving a bachelor's in mechanical engineering and a master's in management. Along the way, he worked summers, breaks, and holiday vacations. Prior to joining Stevens, he even enrolled in remedial night classes in math and science to prepare for Stevens' rigorous entrance exams.
"It was a long, hard road," he says frankly.
That experience was foremost in his mind when he drew up his gift to Stevens.
"I have come a long way since growing up in Brooklyn, and that probably explains why I feel that, if I can help freshmen who are in financial distress, I will," Eilertsen explains. "When I was at Stevens, I didn't have much money. I know how difficult it is to focus on studies while also worrying about finances. So now I want to help freshman students who are struggling financially, as I did. I didn't have a penny when I graduated from Stevens."
Since planned gifts can provide significant support to Stevens students and programming, he adds, alumni should seriously consider such gifts as a personal legacy to the Institute. Eilertsen, in fact, has been giving each year since he graduated in 1962, and has attended the Class of 1962's last four consecutive five-year anniversary class reunions.
"I would tell alumni that you should sit down and evaluate what your Stevens education has done for you," he concludes. "If you do that, I promise you will feel good about giving back."
© Pentera, Inc. Planned giving content. All rights reserved.