Patrick Whelan: Passing the Torch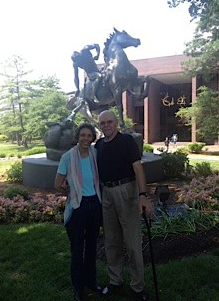 Patrick Whelan '72 still looks at the prominent statue The Torch Bearers on campus and imagines himself in the scene. "It's inspired me to view life from different perspectives," he said. "When I was a student I was on the horse, and the torch I was taking was knowledge and financial support. Now I'm off the horse, but I have to pass that same torch to those who follow."
Patrick, a New Jersey native who attended Stevens on the advice of an uncle who was an engineer, lived on the famous S.S. Stevens floating dorm until he graduated in 1972 with a B.E. in mechanical engineering. Later he earned an M.B.A. from the University of Houston. He worked in program management for the energy industry, and some of his career highlights include winning performance awards from Allied Chemical and Shell Oil. Patrick is now enjoying retirement with his wife of 25 years, Kathleen. They live in Houston and often travel to both east and west coasts to visit family.
He credits his Stevens education for pointing him toward success. "Stevens provided me a solid technical foundation, and beyond that, it showed me how teams can be most effective at solving problems and gave me the confidence to step into leadership roles when the opportunities occurred."
To pass the torch to current and future Stevens students, Patrick and Kathleen recently made a generous outright gift to the Stevens Fund and, some time ago, set up a charitable remainder trust that will provide a significant gift to the university in the future. "Stevens provided me the educational foundation for a successful career, and any alumni who is thankful should invest in the university's future."
When he was a student, Patrick always enjoyed the Stevens view of the New York skyline, and he especially believes now that the university is capable of leveraging its prime location to build a global presence. Each time he visits Castle Point, Patrick sees progress. "I'm amazed at how much is happening on campus and in Hoboken," he said. "I sense the feeling of excitement that life on campus is dynamic, challenging, and rewarding all at once."
© Pentera, Inc. Planned giving content. All rights reserved.