Thankful Alumnus Bill Baumann '60 Supports Class Scholarship with Gift Annuity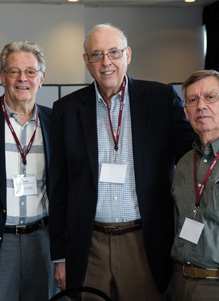 Photo of Bill with his classmates at a Stevens event in March 2016
Bill Baumann has lived in New York City for all of his 77 years. His engineering degree from Stevens, along with his MBA from St. John's University, helped him become a top valuation engineer for the IRS and Ernst & Young. In thanks for his education, he has established a gift annuity to fund the Class of 1960 scholarship.
"I give to Stevens because it gave me so much," says Bill, "in education, lifelong friends, and the hard work that helped me to accomplish whatever success I had in life. A gift annuity is a win-win situation: Stevens gets a donation, and I get a fixed income for life—some of it even tax-free."
As a student Bill enjoyed singing in the glee club and living in the Theta Xi fraternity house. "I liked the broad curriculum," he says, "especially the humanities and a few business courses—which was very unique for an engineering school." He credits that broad experience for preparing him for both his career and for teaching his specialty at the IRS and his accounting firm.
"I struggled with the courses the first two years," he says. "It was a tough curriculum, but I managed through perseverance and hard work to graduate in four years." When he revisited campus, he noted that even though some things had changed, "it was still spotlessly clean with a beautiful view of New York. The staff and students were very congenial. I felt at home."
Bill says that the new administration and staff have done a remarkable job of promoting Stevens and reaching out to alumni and that an interaction with Michael Governor started him thinking about making his gift. "I am very proud of Stevens and to be a graduate," he concludes. "I would like to see the scholarship help someone to go there."
© Pentera, Inc. Planned giving content. All rights reserved.