Al Filskov '61 Makes Gifts to Support Deserving Students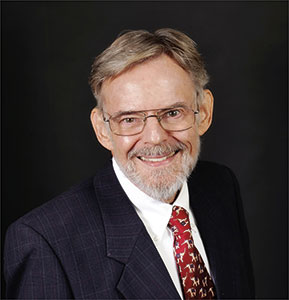 Alfred (Al) Filskov Jr. '61 always knew what he wanted. "Even in grade school, I told my friends I wanted to be an engineer and go to Stevens!" he says. "Science was always my favorite subject. My ninth-grade biology project was entered into the Greater Newark Science Fair where I won the grand prize. In addition, I won a Gold Medal Finalist award in the National Science Fair that year."
Al's father, uncle, and cousin all attended Stevens, and he had visited during alumni days. "To be fair, my father took me to see other schools," he says. "But I was set on Stevens."
In gratitude, Al has established both a charitable gift annuity with the University and a bequest provision through his estate plan. "I wanted to express my gratitude to Stevens for my preeminent education and be a part of its current mission in providing outstanding education to young people," Al says. "As a senior citizen, I always have the concern about outliving my income. The gift annuity provides a current income stream at a good market rate for life while ensuring that the charity gift has been made and the school is able to immediately realize certain current value."
Al's career led him to be a part of "a number of interesting electrical projects," including: the design of the power control for a four-story vacuum chamber built in NASA's Goddard Space Flight Center; being the project manager for the "Polaroid Program" at Texas Instruments that produced the shutter control module for the Polaroid camera and led to a U.S patent in 1969; being president of an electrical manufacturing company in New York City; and running his own consumer manufacturing company in Johannesburg, South Africa, for eight years. Currently, Al is an investment advisor with Core Investment Management in Venice, Florida, where he has lived for more than 20 years.
In addition to the excellent technical training, Al enjoyed his courses in the humanities. "They opened a world of thought through philosophers and literature," he says, with his most valuable lesson being "how to think logically and methodically through problems to reach successful conclusions." Al also participated in the dramatic society, worked on the Events magazine, and was a member of the Theta Xi fraternity. "The friendship, camaraderie, and scholastic encouragement were essential to keep me positive and motivated."
When asked what he would say to other alumni who may be considering a gift to Stevens, Al says: "Stevens certainly provided you with a good education to start your career. The school has a wonderful record in training engineers, and it now has a sophisticated future plan with realizable excellent goals. Now is a chance for you to be part of the ongoing effort to help Stevens reach its goals and ensure quality education to deserving individuals."
© Pentera, Inc. Planned giving content. All rights reserved.