Richard Harries '58: Legacy Challenge Accepted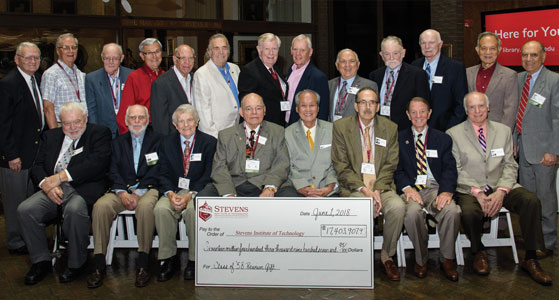 As you know, we reached The Power of Stevens campaign goal of $150 million, six months ahead of schedule, and that the Board of Trustees voted unanimously to continue toward a new goal of $200 million through the university's 150th anniversary in 2020.
You should have also heard that we passed the $150 million mark after a significant legacy gift from Richard Harries '58 and his wife Carol. While Richard's campaign gift will have a lasting and transformative impact on the future of Stevens, he has also recently made an additional gift that harkens to the past and has a meaning of brotherhood.
Richard challenged his classmates to join the Stevens Legacy Society, which they could do simply by including a bequest for the university in their estate plans. If ten 1958 grads joined, including himself, Richard would give $10,000 to the Class of 1958 Endowed Scholarship—which the university would then match. Typical of Stevens alumni, the class did not shrink from the challenge. Nine had joined the Stevens Legacy Society before Alumni Weekend last June; and at their 60th reunion dinner, a class member announced he would be the tenth.
The next day, Richard honored his commitment by presenting his check to President Farvardin, who in turn saw that the university honored its own commitment.
Congratulations and thanks to the grand, great Class of 1958, and may the spirit continue!
© Pentera, Inc. Planned giving content. All rights reserved.